::
services
::
solutions
::
technologies
::
least cost routing
::
site map
::
links of interest
::
contact us
::
15.99 broadband
::
technical support
::
user guides
::
affiliates
::
affiliate signup
::
online catalogue
::
order status
::
Strata CIX offers
::
link to us

::
TOSHIBA
::
Panasonic
::
Cypreon
::
MITEL



Banyard Telecom
Tel: 08450 515151
Fax: 08450 565657
Email Us
---

Strata CIX - A Pure IP Communications Solution

Today's enterprises are more dynamic and require you to radically rethink the way your IT infrastructure supports your business needs. IP telephony is a communications technology that creates this competitiveness to stay ahead.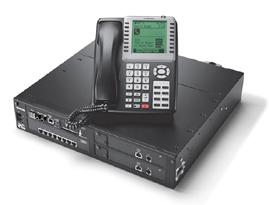 IP telephony has matured and evolved into a feasible option for all types of corporate environments.
Strata CIX Office is a sophisticated, feature rich, pure IP communication solution from Toshiba that effectively delivers on the promise of IP telephony.
Whether you require a solution for your corporate head office, or a system that can be implemented in one or several branch offices, Strata CIX is the modular, rack mounted communication platform designed to fit into a typical IT environment you need.

Strata CIX Office can be configured as a one or two cabinet system.
The two cabinet system has capacity of up to 192 ports, and supports up to 160 IP extensions or up to 96 trunks.


Scalability

Toshiba's Strata IP-CIX solutions are scalable up to large-scale enterprises with 128 nodes and 560 IP endpoints on one system. Customers can scale up their network with modular engineering when they require. Toshiba's Strata IP-CIX is extendable to communication devices like; PC, SoftIPT and Pocket PC.

Cost Effectiveness

Toshiba's Strata IP-CIX solutions enable you to create a cost-effective, converged communication system by integrating voice and data IP traffic into your existing network infrastructures at your own pace.

Reliability

Toshiba understand that enterprise network uptime is very critical. Therefore Strata IP-CIX solutions are designed to produce a system reliability of 99.999% to protect custom's interest and mission-critical operations.

Mobility

Every business needs to lower cost and increase productivity. Ever increasing trend shows that, employees are managing business and extending corporate capability from home offices, branch offices and even at customer's site. Toshiba's Strata IP-CIX solutions make communications possible for all employees anywhere and anytime. It also lets you add this capability to your existing Strata CTX telephone system, on an as-needed basis and without disrupting the business flow.


Free Installation & Maintenance!
Banyard Telecom provide free installation and the first years maintenance with any complete phone system order via this catalogue.
We also provide free delivery on all orders over £500!

Cheap Calls ?
We can also supply BT lines at a reduced price along with cheap phone calls to any destination around the world.
Sign up now.


© 2004 - 2010
Banyard Telecom


Disclaimer



Would you like to sell banyard telecoms products on your website and make some commission? if so click here to sign up