::
services
::
solutions
::
technologies
::
least cost routing
::
site map
::
links of interest
::
contact us
::
15.99 broadband
::
technical support
::
user guides
::
affiliates
::
affiliate signup
::
online catalogue
::
order status
::
Strata CIX offers
::
link to us

::
TOSHIBA
::
Panasonic
::
Cypreon
::
MITEL



Banyard Telecom
Tel: 08450 515151
Fax: 08450 565657
Email Us
---
The Toshiba Strata CTX670 Telephone System has been designed as a complete solution for business communications needs. Strata CTX670 can be expanded both in terms of capacity and functionality as the needs of your business change.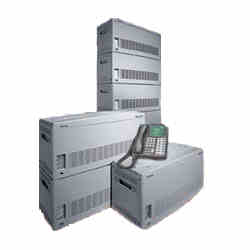 Should you need to set up a call centre, or link your computer records to the telephone system, the Toshiba Strata CTX670 telephone system can achieve this for you.
This is because Strata CTX670 phone system has been designed as a modular telephone system for complete flexibility of use.
This means you only pay for the features and functions your business needs, when you need them.

Suitable for virtually any size of organisation, the Toshiba Strata CTX670 can be expanded by simply adding extra cards or cabinets.
A one cabinet system provides up to 30 lines and 96 extensions.
Six expansion cabinets can be added to the Strata CTX670's base cabinet to give a maximum system configuration of 560 extension and 264 exchange lines.


You can even grow beyond 560 extensions because Toshiba Q-SIG software allows up to 128 Strata CTX systems to be linked together with a common extension numbering plan.

The Toshiba CTX can also be connected by Q-SIG to the Toshiba CIX Pure IP telecommunications platform
To find out more about the Toshiba CIX please click here.


Key Customer Benefits

Toshiba Strata CTX670's modular design gives complete flexibility to add capacity, features and functions to the system when your business requires them.

The Toshiba Strata CTX100 and Strata CTX670 telephone systems are IP enabled offering you the option of VoIP, allowing you to migrate easily to IP based telephony solutions.



The Toshiba Strata CTX100 and Strata CTX670 telephone systems have been designed for continuous technical enhancement, so you will always have access to the latest technology supporting your business to maintain its competitive advantage.



The Toshiba Strata CTX100 and Strata CTX670 telephone systems offer investment protection with future proof technology within all of the handsets, applications and most of the system hardware compatible between both systems.
Core Features
The Complete Telephony Solution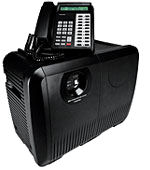 The Toshiba Strata CTX100 telephone system has been designed as a complete telephony solution offering all the optional facilities of the Strata CTX670 system including:

Automatic call distribution

The Strata CTX670 ACD suite of products provides sophisticated contact centre functionality.
Up to 180 ACD groups can be set-up and features such as alpha-tagging and multiple DDI numbers for ACD groups make the ACD package highly flexible.

Voice Processing

Toshiba can offer a range of Stratagy voice processing solutions for use with Strata CTX100 and Strata CTX670 to meet all of your business needs.
This cost-effective approach allows you to choose the Stratagy system that best meets your needs in terms of capacity and sophistication.

Desktop CTI

An individual user's phone is linked to their computer, so when a call is received from someone logged in the computer's address book, the name and number of the caller is presented to the user on screen.
The user can also use their address book for making outgoing calls.

SmartPhone

Oak's SmartPhone is a PC Soft phone that is a powerful productivity enhancement. With SmartPhone every employee has their own personalized soft phone for managing their communications and making maximum use of their time on the phone.
It has easy to use Call handling features, address book, call history viewing, extension status and much more – all from an easy access tray menu.


Free Installation & Maintenance!
Banyard Telecom provide free installation and the first years maintenance with any complete phone system order via this catalogue.
We also provide free delivery on all orders over £500!

Cheap Calls ?
We can also supply BT lines at a reduced price along with cheap phone calls to any destination around the world.
Sign up now.


© 2004 - 2010
Banyard Telecom


Disclaimer



Would you like to sell banyard telecoms products on your website and make some commission? if so click here to sign up